Programs
Facing a difficult work situation? Need help planning or managing your career? Thinking about work options you have after 50? WLS runs specialized programs with trained professionals to guide you in your career path.
Call us at 914-674-3612 for more information and to register for the following career services:
MANAGING YOUR CAREER IN CHANGING TIMES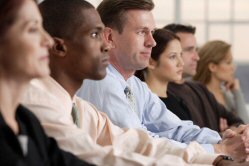 8-week Career Development Seminar
Evaluate your skills, interests, personality
Learn how to use online career information
Explore career alternatives
Find out about educational/training programs in Westchester
Learn effective job strategies
TAKE CHARGE! CAREER/LIFE PLANNING AFTER 50
8-week Career/Life Planning Seminar
Assess yourself and get a clear direction for the next stage of your career
Gain access to a variety of informational resources
Explore new ways of working in a high-tech world
Rediscover learning and explore volunteer and leisure options
WORKSHOPS
Topics include resume development, interviewing, job search and more
INDIVIDUAL CAREER COUNSELING
One-on-one sessions available by appointment at two Westchester libraries: Grinton I. Will Branch of the Yonkers Public Library and the Mount Vernon Public Library.