Individuals
Please consider making a donation in honor of WLS's 60 years of service to the Westchester community and 38 public libraries. Individuals making a donation of $250 or more will be added to our 21st Century Library Donors plaque. Your gift strengthens library services and increases Westchester's public library impact in their community.
Why give to Westchester Library System?
Public funding isn't enough for libraries to provide all the important resources our patrons seek. As an independent nonprofit, Westchester Library System invests in technology and resources for its member libraries so that they and the communities they serve thrive. We are a cooperative system that supports every public library in Westchester County – providing cost savings through resource sharing and programs to strengthen library leadership and support community engagement.
An investment in Westchester Library System is an investment in Westchester's continued success as the intellectual capital of New York State.
Or send a check to: Development, Westchester Library System, 570 Taxter Rd, Suite 400, Elmsford, NY 10523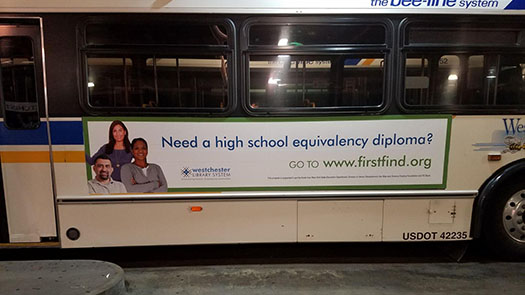 The need to increase public awareness of the library as a reliable source of information and access to learning has never been greater. Have you seen this ad on Westchester County buses? It is just one way WLS promotes High School Equivalency Programs at member libraries and
Firstfind.org
.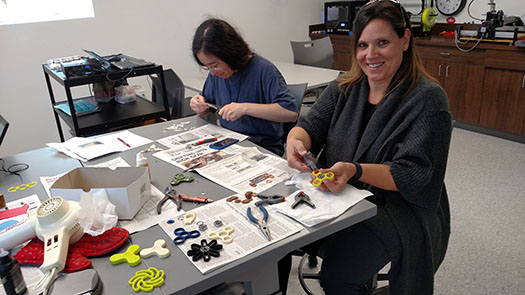 A key funding priority for WLS is expanding library services and access for all. Digital materials and resources are in great demand; they are also costly. WLS' purchasing power leverages greater accessibility for member libraries and their patrons.
There Are a Number of Ways to Support Westchester Library System
Individuals, corporations, family foundations, small businesses are invited to invest in the infrastructure that serves as an incubator for library services and solutions for the 38 public member libraries in Westchester.
Gift of Stock
Savvy investor? A gift of stock is a smart way to support Westchester Library System using your investments. Making a donation to the Westchester Library System in the form of appreciated stock or securities is more economical than giving cash and may make it possible for you to give more than you could otherwise afford. For example, you may own highly appreciated stock purchased years earlier that is paying a modest dividend relative to its market value. If you sell the stock and give the proceeds to WLS you will have to pay capital gains tax, perhaps reducing the amount of the gift and certainly increasing your tax liability. If however, you give the stock directly to WLS, you may be able to deduct the full fair market value of the stock given and avoid any capital gains tax. Consult your legal or financial advisor to learn more.
For questions — and to receive stock donation instructions — please contact Pat Brigham, Director of Development at 914-231-3241 or by emailing pbrigham@wlsmail.org.
IRA Contributions
Did you know that if you are eligible to make an IRA distribution you can make a full or partial distribution directly to Westchester Library System tax free? Check with your accountant or IRA administrator for details on how you can make a direct contribution from your IRA.
Matching Gifts
Many companies offer to match their employees' charitable giving, so please check your employer's policy. Here is a link to some companies that offer matching gifts. See if your company is listed here. If your company uses an online form and you are having difficulty completing it, please contact us at 914-231-3241, we'll be happy to assist you.
Making a Planned Legacy Gift*
You can create a legacy through a bequest to help ensure that libraries remain a community anchor for generations to come. Some donors choose not to inform the charity of their generous intentions. WLS encourages you to inform us of your intentions. You do not have to indicate the gift amount and it affords us the opportunity to celebrate the future gift with you. It also allows you to have a discussion beforehand to set in writing exactly how you wish the gift to be utilized. If you still wish to remain anonymous, you can inform us of your intetions with the understanding that we will not make your intentions public until after the gift is realized.
Here is some sample bequest language you may want to share with your attorney:
"I give and devise to the Westchester Library System, located in Westchester County, NY, all (or state a dollar amount or a percentage) of the rest, residue and remainder of my estate, both real and personal, to be used for its general support."
* This information is provided for your reference only and is not intended as legal or financial advice. We strongly recommend you consult a qualified legal or financial advisor before making a planned gift. For more information, call 914-231-3241 and ask about planned giving. Contact WLS Development Development for more information regarding gifts resulting from trusts, tangible personal property, life insurance, or real estate.
Important Information:
Legal name: Westchester Library System
Address: 570 Taxter Rd, Suite 400, Elmsford, NY 10523
IRS Status: 501(c)(3)
Tax ID #: 13-1882114