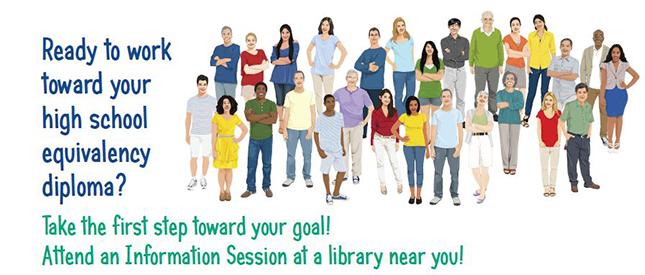 The tutors at HSE Connect! are available to help you reach your educational goals.
Here's what we do:
Explain the three available paths to a diploma.
Review study options – from prep classes to self-study tools that are online and in print.
Help you figure out where to get started.
Tutor in specific topics:

at our Yonkers walk-in center
in 6-8 weeks one-to-one sessions that can help you in a specific subject area
via our email Helpline
Your next step? Talk to us!
Attend an informational session to learn about the test and how you can prepare. The 2017 monthly orientation schedule is available below
Call or email – Leave your name and a contact number and time you can be reached at 914-231-3264 or HSE@wlsmail.org
Walk-in HSE! Connect Resource Center for information about the test and to get help with math,language arts and other test subjects.

Yonkers Riverfront Library (1 Larkin Plaza) Wednesday 10:00 am-1:00pm, Thursday 5:00-8:00 pm, Friday 10:0 am-1:00pm

La información está disponible en español por cita en todos los sitios. Llame al 914.231.3264.
HSE Connect! Orientations – Everything you need to know about how to prepare for and pass the HSE exam so you can get your high school equivalency diploma. Monthly Information Sessions are held at several public libraries as well as at community organizations. No registration is required. See the bottom of this page for a complete calendar.
Help us spread the word. Download our flyer and post it in your community.
* indicates a schedule change due to a holiday
Where: White Plains Public Library, mezzanine level (100 Martine Avenue; Media Lab)
When: 1st Monday of the month
(January 8*, February 5, March 5, April 2, May 7, June 4, July 9*, August 6, September 10, October 1, November 5, December 3)
Time: 6:30-7:45 pm
Where: New Rochelle Public Library, 2nd Floor Conference Room/Help and Learning Center (1 Library Plaza)
When: 1st Saturday of the month
(January 6, February 3, March 3, April 7, May 5, June 2, July 7, August 4, September 8, October 6, November 3, December 1)
Time: 10:30 am-12:00 pm
Where: Ossining Public Library (53 Croton Avenue)
When: 1st Thursday of the month
(January 4, February 8, March 8, April 5, May 10, June 7, July 5, August 2, September 6, October 4, November 1, December 7)
Time: 6:30 pm-8:00 pm
Where: Yonkers Public Library, Grinton I. Will Branch, Story Room (1500 Central Park Avenue)
When: 4th Monday of the month
(January 22, February 26, March 26, April 23, May 21*, June 25, July 23, August 27, September 24, October 22, November 26, December 17)
Time: 6:00 pm-7:30 pm
Where: Yonkers Public Library, Riverfront Branch, 3rd Floor (One Larkin Center)
When: 4th Friday of the month
(January 26, February 23, March 23, April 27, May 25, June 22, July 27, August 24, September 28, October 26, November 23, December 28)
Time: 10:00 am-11:30 am
Right now you can begin to learn more by exploring our free web resources at FirstFind.org. We also have a newsletter exam news, study tips, and more. Take a look at our past newsletters.