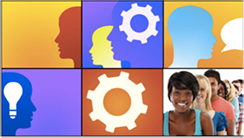 The Learning Ambassadors was a youth employment readiness program that ran from 2008 through 2016. A Video and program description are provided below. For information on how to provide a program like this in your community, contact Francine Vernon at fvernon@wlsmail.org. Sample instructional materials will be posted soon.
Just what is it that a Learning Ambassador does? Watch the video below and find out.
Program Description
Learning Ambassadors was a 10-year project of the Westchester Library System that engaged teens in the experience of work in the 21st Century – where it is essential to navigate a world of ideas that are constructed and shared in multiple media and in dialog across diverse communities. Teens in this program acquired critical academic and workforce skills as part of their training to advance the goals of public library Summer Reading programs throughout Westchester County. Through their work, teens acted as ambassadors to their families, peers, and broader community for the fun and power of libraries and literacy.
Learning Ambassadors offered selected 9th grade students opportunities to learn and lead. Participating teens had seven weeks of paid summer work experience in a local public library. In preparation for their work, teens participated in several pre-session workshops and volunteered at least ten hours during the school year. Working with a librarian-mentor, teens were trained to develop, promise, and deliver programs that engage reading, math and digital literacies. Program types were diverse, from parent/child and bi-lingual storytelling and film discussions, to science experiments and math games, to group craft and video projects. Learning Ambassador training and mentored, hands-on work experience offered teens: opportunities to work as a team with adults and other Learning Ambassadors, training in skills that support academic success as well as near-term employment, insight into the work environment of careers in education, child care, and librarianship, and encouragement and support in college exploration and persistence in higher education.
This project of Westchester Library System is funded in part with funds from the Thomas & Agnes Carvel Foundation, Max & Victoria Dreyfus Foundation, Hope for Youth Foundation, New York State Library's Family Literacy Library Services grant program, SUNY Purchase Great Potentials Program, TD Charitable, and Westchester County.