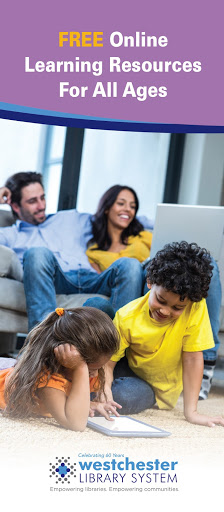 Your library card gives you access to free online resources that can be used to build skills at any age. All of the resources can be accessed from a computer in the library or from any internet connected computer, smartphone, or tablet. Improve math skills. Take a practice driving test. Time yourself on the SAT. Learn new software. Find out what you can do!
<= Click the image for a PDF of our brochure.
Note that items with a

require a library number and PIN to access. Your default PIN is the last four digits of the phone number on file with your library card; call your local library if you do not remember your PIN or contact WLS. Be sure to use the link from this page unless a direct web address is provided.
This symbol

means the resource was paid for with Central Library Funds.
For Early Learners
FIRSTFIND.ORG offers videos, brochures, and information to help parents enhance their child's learning, development, and health. Find links to programs and resources to support children and their families.
FIRSTFIND.ORG ofrece videos, folletos, y información para ayudar a los padres a mejorar el aprendizaje, el desarrollo, y la salud de sus hijos. Descubrir enlaces a programas y recursos para apoyar a los hijos y sus familias.
TUMBLEBOOKS includes hundreds of full-color animated books in which words are highlighted as they are read aloud, many with musical accompaniment. Topics from fairy tales to science facts offer fun for children from preschool age through 6th grade.
TUMBLEBOOKS en español es una colección de TumbleBooks: libros animados con ilustraciones que hablan y enseñan a los niños a leer en inglés en un formato que les encantará. Los libros de TumbleBooks se crean a partir de libros ilustrados ya existentes, a los que se les añade animaciones, sonido, música y narraciones para dar vida a un libro electrónico ilustrado que se puede leer o escuchar.
DaybyDayNY.org is an interactive calendar to develop a love for books and learning that will last a lifetime. The calendar features free picture books, songs, and family activities to build reading skills.
DaybyDayNYsp.org es un calendario interactivo en español para desarrollar un amor por la lectura. El calendario presenta libros de imágenes, canciones, y actividades familiares.
For Learners of all Ages
LEARNING UPGRADE is a fun way to learn reading and math from elementary school through high school level. Short game-like lessons include pictures and music. Select GET STARTED and pick the skill you want to build first – English or Math. Pick a starting level or take a placement test. Do the first 8 lessons for free. if you like it, contact our Study Coaches for a full account at HSE@wlsmail.org. A library card is not required. Learning Upgrade no está disponible en español, pero este programa es una forma comprobada de aprender inglés. ¡Este video explica cómo funciona!
FIRSTFIND.ORG offers information and links to learning tools for those who want to get their high school equivalency diploma, go to college, learn English, or get a job. Good starting point for teens and adults.
Driving Tests offers free New York State Driver Permit practice tests and driver handbooks. Use to study for your license or get a refresher on the rules of the road. ¿Habla español? Vaya al sitio web y selecciona la pestaña "en español" a la derecha para estudiar para el examen de manejo.
LinkedIn Learning (formerly Lynda.com)


provides interactive lessons on how to use different types of software to build technology, creative, and business skills. Covers everything from using a search engine to building a website. Note: When using the mobile app, the Library ID is: westchesterlibraries
Tutor.com/westchester

offers live online chat and email support for learners of all ages. You can check a homework question, send in an essay for review, prepare for a test, and even have a cover letter or résumé checked. Hay tutores que hablan español. Note: Due to coronavirus, Tutor.com has expanded its tutoring hours from 9:00 am – 10:00 pm, Monday through Friday, until further notice.
UNIVERSITY OF FASHION

gives you expert-led video tutorials that guide you in applying creative and critical thinking skills to fashion design, pattern making, and practical sewing projects. Note: A library card is required for home access.