Westchester Seniors Out Speaking (WSOS) is a county volunteer group devoted to delivering free services to help adults 60+ to achieve a better understanding of Medicare health plans and prescription drug coverage. In addition to monthly training by the Medicare Rights Center, volunteers are regularly briefed on related senior-directed services. Volunteers apply their training to the delivery of educational presentations and counseling services. For more on our counseling services, see this page on Senior Benefits Individual Counseling Services.
WSOS volunteers are available to deliver presentations in your community that inform and engage. Serving groups both large and small, these interactive events alert older adults about their rights as patients and how to take charge of their health care. For a list of presentations currently scheduled, see the the calendar at the bottom of this page.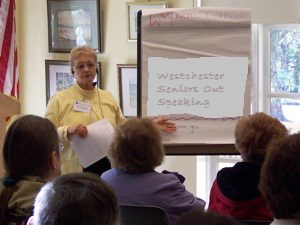 Presentations available include:
Our core program is the Medicare Minute, a brief monthly update (10-15 minutes) on key Medicare and related consumer health topics. If you have an ongoing program serving older adults, include this valuable information –the service is free and active throughout the year.
Also, we offer an array of workshops and presentations designed to educate and engage. Topics include:
ABCD's of Medicare: A review of the many parts of Medicare, comparing original Medicare and Medicare HMOs, Medigap (supplemental) plans and cost-saving programs such as EPIC. Look for "Demystifying Medicare" and "Medicare Basics" in the calendar to find a session near you.
Be Safe in the Hospital: Why you need a health advocate with you, what questions to ask, how to avoid infection, how to appeal a discharge order if you're not ready to go home.
Building a Health Care Team: Why a team can help coordinate your health, who to pick and what they can do when help is needed; discussing the Health Care Proxy and other Advanced Directives.
Health Insurance Considerations on the way to Retirement: What you should know about COBRA, the Health Insurance Marketplace, and employee retirement plans as they relate to Medicare.
Speak Up for Yourself: how to recognize "ageism," get your doctor to listen to you and speak "plain English" and when to get a second opinion.
Who Pays for Home Health Care: what Medicare pays for after a hospital stay and your costs when Medicare payments stop.
mlarkin@wlsmail.org or 914-231-3260 ext. 318.
Interested in being a WSOS Volunteer? See our listing at Volunteer New York or view our flyer for more information.
For personalized counseling on Medicare and related senior benefits, contact our SBIC Helpline at 914-231-3260. You will receive a call back within two business days. Or walk into one of our free counseling sites. Locations and hours are recorded on our Helpline (press "2") and are available on our Senior Benefits Individual Counseling Services page.
An RSVP is urged for most events; this is especially important in case we need to notify you of a time or date change. Please provide your name, a contact number, and the date and location of the event you wish to attend. Provide this information via the phone number or email address in the event details.
Funded through the United States Department of Health and Human Services- Administration on Community Living (ACL), the New York State Office for the Aging, Westchester County and the Westchester County Department of Senior Programs and Services.