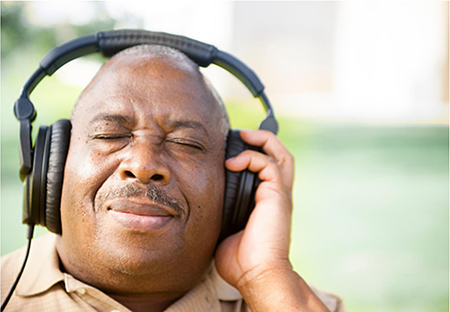 "The Music and Memory at the Library program is amazing! I like to play the
customized musical selections for my dad all the time. I like to play it while
he is relaxing, eating his meals or engaging with others. He responds very
well to the music and even enjoys singing along to his favorite tunes. In fact,
listening to music has renewed his interest in playing the piano. He now plays
the piano every day. The Music and Memory at the Library program proves how
powerful music really is!"
– Christina Jones, daughter and caregiver
Being a home caregiver for a friend or a family member with dementia or Alzheimer's is challenging. Experiencing a loss of connection during care can be heart breaking. There is something you can do to reconnect…and it starts with music.
With the use of a personal music player and over the ear headphones, you can incorporate music into daily care. Research shows that by regularly offering a personalized playlist to someone struggling with memory problems, new opportunities for connection can happen, along with an increase in participation in the activities of daily living.
Westchester Library System offers a free music workshop explaining the program, which reviews the impact of music on those with dementia or Alzheimer's, explains the key principles for music selection, provides a hands-on with the recommended equipment (Apple Shuffle and over the ear headphones), and offers a tutorial on how to import music into the music player through iTunes and Freegal. To find out about workshops in your area, send us an email at MusicandMemory@wlsmail.org. You can also go directly to our Program Guide (Google Doc). Try it yourself, and email us with questions or feedback.
If you know of anyone else who might be interested in this program, please share a copy of our program flyer.