Call the SBIC Helpline at 914-231-3260 or email SBICS@wlsmail.org with your name, question, and preferred method of contact. Counselors are monitoring the Helpline seven days a week.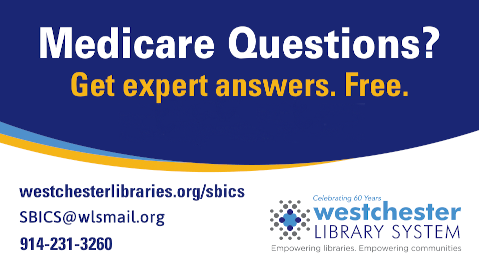 Senior Benefits Individual Counseling Services (SBICS) help older adults 60 and over and those caring for the elderly achieve a better understanding of Medicare health plans and prescription drug coverage. Information is provided about different types of government programs.
Talk to a trained counselor to get information about:
Medicare, Medicare Advantage, and Medigap supplement plans
Part D prescription drug coverage
Medicare savings plans for low-income seniors
Home Energy Assistance Program (HEAP), food stamps and other benefit programs
Our comprehensive Demystifying Medicare presentation has moved online with a series of audio recordings you can complete at your own pace! To access the audio recordings and find upcoming presentation dates, click on this link.
SBIC is a program offered by Westchester Seniors Out Speaking, a project of the Westchester Library System. Invite us to speak to your community group about Medicare and related services. Our Westchester Seniors Out Speaking brochure has more details, including available presentations. For more information email SBICS@wlsmail.org.