SBIC is a project of the Westchester Library System. Visit seniors.westchesterlibraries.org for more details, including counseling locations, hours, and other senior-oriented programs.
Need help? Call the SBIC Helpline at 914-231-3260 or email SBICS@wlsmail.org with your name, question, and preferred method of contact. Counselors are monitoring the Helpline seven days a week.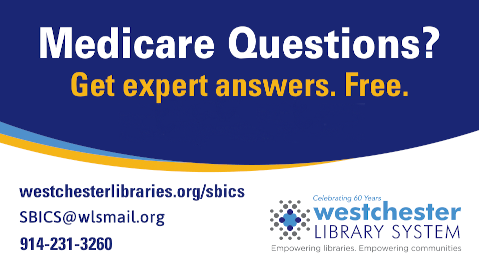 Senior Benefits Individual Counseling Services (SBICS) help older adults 60 and over and those caring for the elderly achieve a better understanding of Medicare health plans and prescription drug coverage. Information is provided about different types of government programs.
Talk to a trained counselor to get information about:
Medicare, Medicare Advantage, and Medigap supplement plans
Part D prescription drug coverage
Medicare savings plans for low-income seniors
Home Energy Assistance Program (HEAP), food stamps and other benefit programs
Our comprehensive Demystifying Medicare presentation has moved online with a series of audio recordings you can complete at your own pace! To access the audio recordings and find upcoming presentation dates, click on this link.